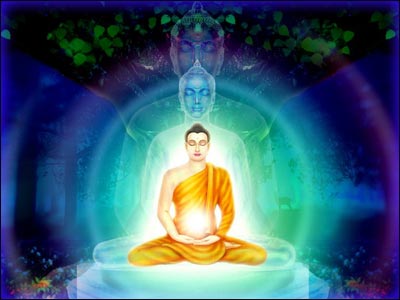 Buddhism is a way of finding peace within oneself. It is a religion that helps us to find the happiness and contentment we seek. Buddhists develop inner peace, kindness and wisdom through their daily practice; and then share their experience with others bringing real benefit to this world. They try not to harm others and to live peacefully and gently, working towards the ultimate goal of pure and lasting happiness for all living beings.
Buddhism started with the Buddha. The word 'Buddha' is a title, which means 'one who is awake' — in the sense of having 'woken up to reality'. The Buddha was born as Siddhartha Gautama in Nepal around 2,500 years ago. He did not claim to be a god or a prophet. He was a human being who became Enlightened, understanding life in the deepest way possible.
Buddha explained that all our problems and suffering arise from confused and negative states of mind, and that all our happiness and good fortune arise from peaceful and positive states of mind. He taught methods for gradually overcoming our negative minds such as anger, jealousy and ignorance, and developing our positive minds such as love, compassion and wisdom. Through this we will come to experience lasting peace and happiness. These methods work for anyone, in any country, in any age. Once we have gained experience of them for ourselves we can pass them on to others so they too can enjoy the same benefits.
Meditation is at the heart of the Buddhist way of life. It is basically a method for understanding and working on our own mind. We first learn to identify our different negative mental states known as 'delusions', and learn how to develop peaceful and positive mental states or 'virtuous minds'.
Then in meditation we overcome our delusions by becoming familiar with virtuous minds. Out of meditation we try to maintain the virtuous minds we have developed and use our wisdom to solve the problems of daily life. As our mind becomes more positive our actions become more constructive, and our experience of life becomes more satisfying and beneficial to others.
Anyone can learn basic meditation techniques and experience great benefits, but to progress beyond basic meditation requires faith in the Three Jewels – Buddha, Dharma and Sangha. Usually people find this develops naturally as they experience the benefits of their meditation practice.
The teachings of Buddha reveal a step by step path to lasting happiness. By following this path anyone can gradually transform his or her mind from its present confused and self-centered state into the blissful mind of a Buddha.
As Geshe Kelsang says in his popular book Eight Steps to Happiness:
Every living being has the potential to become a Buddha, someone who has completely purified his or her mind of all faults and limitations and has brought all good qualities to perfection. Our mind is like a cloudy sky, in essence clear and pure but overcast by the clouds of delusions.
Just as the thickest clouds eventually disperse, so too even the heaviest delusions can be removed from our mind. Delusions such as hatred, greed, and ignorance are not an intrinsic part of the mind. If we apply the appropriate methods they can be completely eliminated, and we shall experience the supreme happiness of full enlightenment.
Having attained enlightenment we shall have all the necessary qualities – universal love and compassion, omniscient wisdom and boundless spiritual power – to lead all living beings to the same exalted state. This is the ultimate aim of Mahayana Buddhism.
Siddhartha was born into the royal family of a small kingdom on the Indian-Nepalese border. According to the traditional story he had a privileged upbringing, but was jolted out of his sheltered life on realising that life includes the harsh facts of old age, sickness, and death.
This prompted him to puzzle over the meaning of life. Eventually he felt impelled to leave his palace and follow the traditional Indian path of the wandering holy man, a seeker after Truth. He became very adept at meditation under various teachers, and then took up ascetic practices. This was based on the belief that one could free the spirit by denying the flesh. He practised austerities so determinedly that he almost starved to death.
But he still hadn't solved the mystery of life and death. True understanding seemed as far away as ever. So he abandoned this way and looked into his own heart and mind; he decided to trust his intuition and learn from direct experience. He sat down beneath a pipal tree and vowed to stay there until he'd gained Enlightenment. After 40 days, on the full moon in May, Siddhartha finally attained ultimate Freedom.
Buddhists believe he reached a state of being that goes beyond anything else in the world. If normal experience is based on conditions — upbringing, psychology, opinions, perceptions — Enlightenment is Unconditioned. A Buddha is free from greed, hatred and ignorance, and characterised by wisdom, compassion and freedom. Enlightenment brings insight into the deepest workings of life, and therefore into the cause of human suffering — the problem that had initially set him on his spiritual quest.
During the remaining 45 years of his life, the Buddha travelled through much of northern India, spreading his understanding. His teaching is known in the East as the Buddha-dharma or 'teaching of the Enlightened One'.
He reached people from all walks of life and many of his disciples gained Enlightenment. They, in turn, taught others and in this way an unbroken chain of teaching has continued, right down to the present day.
The Buddha was not a god and he made no claim to divinity. He was a human being who, through tremendous effort of heart and mind, transformed all limitations. He affirmed the potential of every being to reach Buddhahood. Buddhists see him as an ideal human being, and a guide who can lead us all towards Enlightenment.
The Last Message of the Buddha ,'When I am gone, my Teaching shall be your Master and Guide.'
Three months before His passing away the Buddha addressed His disciples and said: 'I have delivered sermons to you during these forty-five years. You must learn them well and treasure them. You must practise them and teach them to others. This will be of great use for the welfare of the living and for the welfare of those who come after you'.
'My years are now full ripe; the life span left is short. I will soon have to leave you. You must be earnest. O monks, be mindful and of pure virtue! Whoever untiringly pursues the Teaching, will go beyond the cycle of birth and death and will man an end of Suffering.'
When Ananda asked the Buddha what would become of the Order after He pass away, the Buddha replied, 'What does the Order expect of me, Ananda? I have preached the Truth without any distinction; for in regard to the Truth, there is no clenched hand in the Teachings of the Buddha. It may be, Ananda, that to some among you, the thought will come 'The Master's words will soon end; soon we will no longer have a master.' But do not think like this, Ananda. When I am gone, my Teaching and the disciplinary code shall be your Master.'
The Buddha further explained: 'If there is anyone who thinks, 'It is I who will lead the brotherhood', or 'The Order is dependent on me, it is I who should give instructions', the Buddha does not think that He should lead the order or that the Order is dependent on Him. I have reached the end of my days. Just as a worn-out cart can only be made to move with much additional care, so my body can be kept going only with much additional care. Therefore, Ananda, be a lamp and refuge unto yourselves. Look for no other refuge. Let the Truth be your lamp and your refuge. Seek no refuge elsewhere.'
At the age of eighty, on His birthday, He passed away without showing any worldly supernatural powers. He showed the real nature of component things even in His own life.
When the Buddha passed away into Nibbana, one of His disciples remarked, 'All must depart—all beings that have life must shed their compounded forms. Yes, even a Master such as He, a peerless being, powerful in Wisdom and Enlightenment, even He must pass away.'
The parting words of the Buddha:
'Appamadena Sampadetha Vaya Dhamma Sankhara'.
'Work diligently. Component things are impermanent.'

References: