Colonel Santosh Mahadik was an exceptional soldier by all accounts. The officer, who was the Commanding Officer of 41 Rashtriya Rifles was killed on Tuesday while conducting anti-terror operations in the Kupwara area of Kashmir.
As an officer of the elite 21 Para-Special Forces unit, Col Mahadik led many "successful operations" against militants and their hideouts in Jammu and Kashmir and in the northeast for over a decade.
The 39-year-old colonel had conducted many anti-terror operations in Kashmir and in the Northeast in the past; and according to a Times of India report, he had volunteered to command a battalion of the Rashtriya Rifles in Jammu and Kashmir.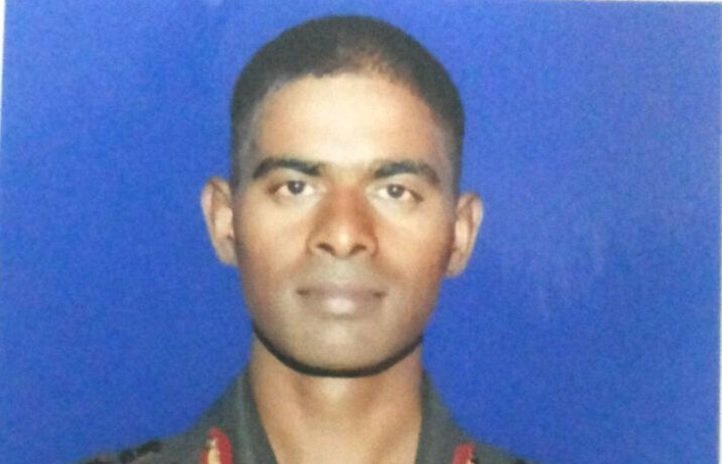 Colonel Santosh Mahadik. Source: @SpokespersonMoD 
Mahadik came from a humble background. He was the son of a dairy farmer, acccording to a Hindustan Times report. His father used to, and still supplies, milk to the Sainik School in the Satara district of Maharashtra, the school where he studied.
He was reportedly the best boxer in the school and was the goalkeeper of the school's football team won the state championship.
After his studies, Mahadik joined the army where he was originally in the 21 Special Forces Para Unit of the Army. And he received the Sena Medal for his bravery during Operation Rhino which was conducted in Assam in 2003.
The Colonel had conducted successful anti-terror operations in the Northeast, which might explain his desire to continue to do the same in Jammu and Kashmir. The officer had led multiple anti-terror operations in the state after he joined the Rashtriya Rifles.
Awarded a Sena Medal for gallantry during Operation Rhino in the north-east in 2003, he did not want to rest on his laurels even after becoming a Colonel. He volunteered to command a battalion of the Rashtriya Rifles, the Army's specialised counter-insurgency force in J&K. On Tuesday , Col Mahadik was leading his troops from 41 RR in a chase against heavily-armed terrorists, who had infiltrated across the LoC.
In January, Colonel Munindra Rai of Gorkha Rifles died in Jammu and Kashmir's Tral in a similar operation. "Over the last two days, as many as three `contacts' had been established with this group of terrorists in the inhospitable terrain… but they managed to evade," said a senior officer.
At around 2pm on Tuesday, Col Mahadik and his troops were again combing the area when the terrorists opened heavy fire, and then fled deeper into the forest. "Col Mahadik was hit on the head… he was evacuated to the Durgmulla military hospital but succumbed despite medical intervention. Two other security personnel were injured. The operation is still continuing," said the officer.
Col Mahadik, who studied in the Sainik School in his hometown Satara in Maharashtra, leaves behind his wife Sashwati, an 11-year-old daughter and a five-year-old son. "We are proud of our young officers like him who lead from the front and do not hesitate to sacrifice their lives for the nation," defence minister Manohar Parrikar said.
On Tuesday he was leading operations against militants when the group of soldiers were fired upon. Mahadik was hit in the head and despite being taken to a hospital couldn't be saved.
The officer had a wife and two children: a eleven-year-old daughter and a son who is five-years-old.I share some photographs to pay homage to this real hero of our nation…
Late Col Mahadik with his kids in Kupwara, celebrating what would be his last birthday. (Photo courtesy: Santosh Ghorpade on Facebook)
Col Santosh Mahadik's daughter bidding her valiant dad a final goodbye. All she'll be left with are wistful memories….she wants become a surgeon in army when she grows up. Great thought from a daughter of a great dad.
Keep all of the brave soldiers that have fallen in the line of duty in your hearts; they are heroes in heaven now, but we will always remember their unselfish sacrifice. Also pray for those in the military still today; may God protect them!
Ref :