Full name Manish Krishnanand Pandey
Born September 10, 1989, Nainital, Uttaranchal
Current age 26 years 135 days
Major teams India A, Karnataka, Kolkata Knight Riders,Mumbai Indians, Pune Warriors, Royal Challengers Bangalore,South Zone
Playing role Top-order batsman
Batting style Right-hand bat
Bowling style Right-arm medium
Just heard a news that  India won by 6 wickets,with 2 balls remaining.Thanks GOD!After losing four one matches against Australia,finally,again little smile appeared on our face,of course,credit goes to Manish Pandey, right-handed middle-order batsman representing Karnataka in all forms of domestic cricket and Kolkata Knight Riders in the IPL.
Who is Manish Pandey?I have googled and found one interesting story on web of Indianexpress.com,i am keeping it as it is this must read article.
Manish Pandey: From wait-list to confirmed
After years in the queue, Manish Pandey gets an opportunity to seal a berth in the absence of Suresh Raina and Ambati Rayudu.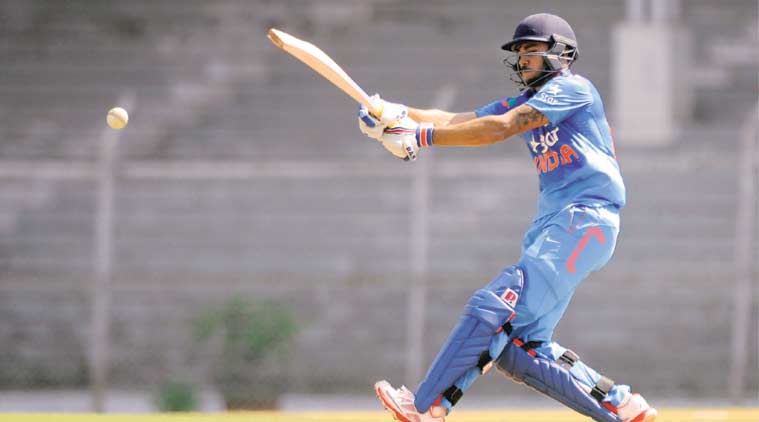 Despite his talent and the fact that he was the first Indian to score an IPL hundred, Manish Pandey has played only one ODI — as part of a second-string team to Zimbabwe. (Source: BCCI)
In October 2009, a few months after he became the first Indian to hit a hundred in the IPL, I went to Manish Pandey's hotel room in Bangalore for an interview. The Champions League T20 tournament was on, and my surname had led to an understandable misconception in the hotel staff that secured an easy entry to his room.
However, the expected candid chat never materialised that day as Pandey was busy trying to keep the ticket-hunters happy. There was this great buzz about Pandey then. He was the boy-wonder, and there was expectation that he might be even picked for the T20 World Cup to be played in West Indies then. Everyone wanted a piece of him, and he was away for two hours trying to please his ticket hunters and I was left channel surfing in his room.
"Bhaishaab, aapke paas ticket hai," was his first line post his return to the room. It had seemed then that the boy would go places, but surprisingly, he had to wait six more years before he could get a chance to wear the Indian cap.
It's been a long wait for the family, too. There is an old photograph of a three-year old Manish Pandey at his home where he is holding a plastic cricket bat. From then on, apparently, his father, a retired Colonel in the army, wanted him to play cricket. When he was nine, his father's dream became his. "At 9, I knew I wanted to play cricket for life." He used to play in the former India wicketkeeper Syed Kirmani's academy in Bangalore then, and remembers hitting a hundred against a team from Mysore in 40 balls as the moment it all clicked internally.
"From then on, I decided to play cricket for ever." His father's army job kept taking the young Pandey all around the country, from Nasik, where he played in junior league cricket, to Rajasthan, in a small town of Suratgarh where he didn't play much cricket for 18 months. Luckily, his father was transferred back to Bangalore, where he dived back to cricket again.
Initially, things were happening at a frenetic speed. Three hundreds in a U-17 tournament paved a smooth transition to U-19 level and to the famous World Cup triumph under the leadership of Virat Kohli. The IPL followed soon after, and all seemed bright when his career hit speedbreakers and he had to learn to wait.
It wasn't as if the runs weren't coming — he averages 50.37 in first-class — but somehow he was not seen as consistent enough. He wasn't an Ajinkya Rahane or a Cheteshwar Pujara in that respect. But there was always enough sparks from him that would bring him into national reckoning.
Big-match temperament
Like the 2009-10 season where he piled up 956 first-class runs at average of 59 that ended with a heartbreaking Ranji finale in Mysore. He fell for a duck in the first innings but came up with a sensational 144 in the second and nearly dragged Karnataka past the line. Set to chase 338, they eventually fell seven runs short. The match will also be remembered for one of the greatest catches seen on a cricket field, when Pandey rushed to his right at long-on and flung himself full-stretch to come up with one-handed beauty. Hit Youtube to see the startled expression of the batsman Abhishek Nayar.
After the match ended, Ajit Agarkar, who took five wickets in the second innings to bowl Mumbai to win, was all praise for Pandey. "Is ladke mey baat hai (There is something in this boy), His talent reminds me of Rohit Sharma." Next year, Pandey would trigger more praise as he amassed 958 runs and also raised hopes of a call to the Indian team but it never came. "Obviously, I was eager like in 2009-10 , 2011 season but that didn't happen and I had to wait," Pandey says now.
In 2011, he underwent hernia operation which made him miss half of the season. 2012-13 season saw him scoring only 541 runs in 14 innings as the runs suddenly dried up. "When you make a comeback from injury its tough to get same momentum. You have to start all over again and domestic season can be very tiring. Sometimes in four days of play, you get chance to bat for only one day. I tried hard and I have no complaints. I have played my cricket fearlessly and will continue to do so," Pandey says.
"I knew that if you keep doing well you are bound to get chances. I have waited long enough and it has finally happened now."
During that wait, and especially after that 2011 season, he had to also face a negative perception about his batting in the cricketing fraternity. That he wasn't all that comfortable against fast bowling. He moves around the crease, in his stance, and those seemingly nervy shuffles (seen in IPL) raised some questions against his technique in some quarters.
He is frank when asked about those perceptions. "In, Ranji you face bowlers who are 130-135 and in higher level pacers bowl at 150-155. The change I had to make was to get ready faster. You see you are getting late on the ball. These are minute things which only batsman comes to know when he is facing a real quick fast bowler. That happened to me in the IPL games. I sorted out myself. IPL actually helped me as I had to face all quick bowlers. Those two months of IPL (every year) have been of great help to correct my footwork. I made that change slowly, maybe but those IPL stints helped me," he added.
Runs came in a flood in the last two seasons as he totalled 1,059 and 722 runs respectively. Meanwhile, things started to settle down in his life. With the IPL money coming in, he asked his father Krishanand, who was stationed in Roorkee, to take voluntary retirement. The boy was becoming a man. It would have come as sweet little moment for his father. Pandey had once shared what his father told him when he was a teenager. "My dad told me that when you play higher level, you get more money, but please never play for money.' I always have that in mind. Money toh aata rahta hai… sar pe kuch nahi chadha hai abhi."
The long years in Ranji has taught him the art of patience and the art of building an innings. "In the past couple of years there has been many instances where we were 600 for 4 and I scored century. But there have been a few instances when team was 30 for 3 and I have battled it out. I have got the knack of it now. The satisfaction of scoring runs in those moments is more than the games where runs came easily," he says.
His philosophy has been simple that cricket is mental game and one shouldn't get too technical in focus. "Batsman learn when they commit the mistake and that is the moment they realise ke galti ho gayi (mistake has happened) and you correct." So whom does he look up to when nothing works out, he takes a long pause, "Actually, koi nahi."
The Indian team will be playing five ODI's and three T20's in Australia next year and luckily, there will be no one bothering him for tickets.
Taken from : http://indianexpress.com/article/sports/cricket/manish-pandey-from-wait-list-to-confirmed/