Now US$ is almost rating INR 68 per single US$! There'd be great export opportunity for export to world market from India.USA and other north american countries,Europe,South Africa and Gulf countries are the most potential zone.Here,I give list of marketplaces on the web to seek business.I have also given some export oriented product categories with last year export business from India for your kind consideration.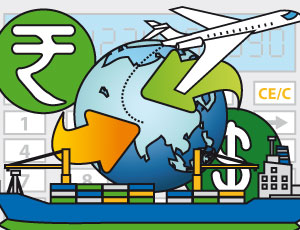 Following are the online marketplaces to fetch business from international buyers.   
7 Online Marketplaces
Amazon. 129 million UV. The big gorilla. A first-party seller that added third-party sellers with great success. Wide variety of products in all categories. Allows you to set up a store and products within strict rules. The customer is Amazon's, not yours and that is strictly enforced. Offers Fulfillment by Amazon, which opens up Prime Rewards program and free shipping to third-party products. Amazon offers several monthly plans for merchant stores and charges commissions upwards to 25 percent, depending on the category.
eBay. 84 million UV. No first-party sales. All transactions brokered by eBay and fulfilled by third-party merchants. Options for "Buy It Now" or for traditional auctions. Fees structure is complex: subscription rates, insertion fees, and final value fees vary by plan. Easy-to-establish seller account. Wide variety of products and categories.
Walmart.com. 57 million UV. Yes, Walmart also has a third-party marketplace. But it is currently limited to less than a dozen authorized online retailers, including eBags, Tool King, and Wayfair. Hence, Walmart.com is not an open marketplace.
BestBuy.com. 22 million UV. A relative newcomer to marketplaces, BestBuy.com requires authorization and does not offer many details on its program to the public. However, it does offer many products — mostly electronics — not available in stores.
Sears.com. 21 million UV. In many ways, Sears copied Amazon. It is a first-party seller with marketplace stores. It has many products and categories, and many marketplace sellers. Sears charges a monthly fee for a merchant store; commission rates range from 7 to 20 percent. It also offers rewards to its customers as a competitive advantage over Amazon. The customer belongs to Sears, not the marketplace seller, with rules in place to prevent follow-up marketing. Sears also offers Fulfillment by Sears services.
Newegg. 3.4 million UV. A tech geek paradise where you can also buy a snowboard while you pick up a new hard drive. An approval process is required. Commission rates run from 8 to 14 percent. Many sellers report good success here, perhaps because the competition in niche products is much lower than other larger marketplaces.
Rakuten.com. 1.5 million UV. Formerly Buy.com, now owned by Rakuten, Japan's largest ecommerce company. It allows merchants to customize their stores and product pages, and to conduct follow-up marketing to customers. Rakuten offers customer reward points of 1 percent of purchases. Store plans start at $33 per month, with commissions from 8 to 15 percent, plus a $.99 per item fee that is waived under certain plans and conditions. Sellers can make products available to the Japanese market with no additional charge. Some products also may be sold on BestBuy.com.
India Top Export Products – 2014 -15
S.No.
Name of Products
April-2013-March-2014
%Share
April-2014-March-2015
%Share
YOY Growth % in INR
YOY Growth %in USD
Value in INR Lacs
Value in USD Million
Value in INR Lacs
Value in USD Million
1
India Export Of Mineral Fuels, Mineral Oils And Products Of Their Distillation; Bituminous Substances; Mineral Waxes.
39,238,312.31
64,685.32
20.59
35,111,080.15
57,620.04
18.54
-10.52
-10.92
2
India Export Of Natural Or Cultured Pearls,Precious Or Semiprecious Stones
25,217,541.02
41,692.25
13.25
25,393,999.05
41,549.72
13.39
0.7
-0.34
3
India Export Of Vehicles Other Than Railway Or Tramway Rolling Stock, And Parts And Accessories
7,856,975.35
12,933.03
4.12
8,852,545.59
14,473.84
4.67
12.67
11.91
4
India Export Of Nuclear Reactors, Boilers, Machinery And Mechanical Appliances
7,316,992.25
12,077.17
3.84
8,443,257.50
13,802.85
4.45
15.39
14.29
5
India Export Of Organic Chemicals
7,286,046.52
12,017.17
3.82
7,306,890.31
11,948.91
3.85
0.29
-0.57
6
India Export Of Pharmaceutical Products
6,740,371.23
11,140.50
3.54
7,081,510.40
11,584.58
3.73
5.06
3.99
7
India Export of Cereals
6,354,285.04
10,562.89
3.35
5,828,221.99
9,550.98
3.08
-8.28
-9.58
8
India Export Of Electrical Machinery And Equipment And Parts
6,242,820.75
10,298.51
3.28
5,315,391.02
8,696.79
2.80
-14.86
-15.55
9
India Export of Cotton
6,048,659.16
9,926.42
3.17
4,724,469.94
7,717.95
2.49
-21.89
-22.25
10
India Export Of Iron And Steel
5,604,828.43
9,223.38
2.94
5,307,513.71
8,684.38
2.80
-5.3
-5.84
11
India Export Of Articles Of Apparel And Clothing Accessories, Not Knitted Or Crocheted
5,044,557.19
8,343.35
2.65
5,622,087.16
9,192.14
2.96
11.45
10.17
12
India Export Of Articles Of Iron Or Steel
4,125,650.86
6,807.49
2.17
4,644,505.96
7,592.08
2.45
12.58
11.53
13
India Export Of Articles Of Apparel And Clothing Accessories
4,033,855.94
6,657.53
2.12
4,680,411.21
7,654.62
2.47
16.03
14.98
14
India Export Of Plastic
3,415,380.62
5,633.51
1.79
3,102,209.23
5,081.47
1.64
-9.17
-9.8
15
India Export of Fish and Crustaceans
2,945,117.09
4,823.02
1.54
3,208,437.78
5,249.51
1.69
8.94
8.84
16
India Export Of Aircraft, Spacecraft, And Parts
2,812,383.82
4,585.27
1.47
3,775,464.90
6,159.63
1.99
34.24
34.34
17
India Export of Meat and Edible Meat Offal
2,721,287.15
4,475.53
1.43
3,018,652.81
4,929.27
1.59
10.93
10.14
18
India Export Of Other Made Up Textile Articles, Sets, Worn Clothing And Worn Textile Articles
2,704,017.73
4,457.30
1.42
2,840,596.25
4,645.64
1.50
5.05
4.23
19
India Export Of Ships, Boats And Floating Structures.
2,208,574.69
3,724.76
1.17
3,265,722.06
5,352.61
1.72
47.87
43.7
20
India Export Of Miscellaneous Goods.
2,184,111.59
3,688.25
1.16
586,316.24
958.83
0.31
-73.16
-74
21
India Export Of Miscellaneous Chemical Products.
1,869,433.00
3,088.55
0.98
1,943,227.63
3,177.26
1.02
3.95
2.87
22
India Export Of Residues And Waste From The Food Industries; Prepared Animal Foder
1,859,735.89
3,047.70
0.97
1,000,615.29
1,630.12
0.53
-46.2
-46.51
23
India Export Of Copper
1,710,579.70
2,783.56
0.89
2,057,558.53
3,360.90
1.08
20.28
20.74
24
India Export of Coffee, Tea, Mate and Spices
1,663,531.21
2,746.62
0.87
1,756,310.10
2,871.86
0.93
5.58
4.56
25
IIndia Export Of Rubber
1,622,196.03
2,679.11
0.85
1,665,754.81
2,726.26
0.88
2.69
1.76
26
India Export Of Man-Made Filaments.
1,557,481.00
2,570.23
0.82
1,462,108.71
2,392.28
0.77
-6.12
-6.92
27
India Export Of Footwear
1,547,382.88
2,547.21
0.81
1,801,237.96
2,948.14
0.95
16.41
15.74
28
India Export Of Tanning Or Dyeing Extracts, Tannins And Their Deri. Dyes, Pigments And Other Colouring Matter, Paints
1,545,490.27
2,547.45
0.81
1,720,585.80
2,818.61
0.91
11.33
10.64
29
India Export of Lac, Gums, Resins and other Vegetable Saps and Extracts
1,436,785.88
2,414.86
0.76
1,189,543.31
1,947.54
0.63
-17.21
-19.35
30
India Export Of Articles Of Leather,Saddlery And Harness,Travel Goods, Handbags
1,430,141.40
2,354.54
0.75
1,550,118.38
2,535.78
0.82
8.39
7.7
31
India Export Of Ores, Slag And Ash.
1,334,512.65
2,201.51
0.70
599,229.20
982.07
0.32
-55.1
-55.39
32
India Export Of Optical, Photographic Cinematographic Measuring, Checking Precision, Medical Or Surgical Inst.
1,289,463.42
2,129.49
0.68
1,445,896.81
2,364.22
0.76
12.13
11.02
33
India Export Of Man-Made Staple Fibres.
1,262,084.15
2,083.43
0.66
1,333,421.06
2,179.38
0.70
5.65
4.61
34
India Export Of Salt; Sulphur; Earths And Stone; Plastering Materials, Lime And Cement.
1,185,457.48
1,960.71
0.62
1,199,278.27
1,962.68
0.63
1.17
0.1
35
India Export Of Aluminium
1,162,530.37
1,914.58
0.61
1,737,710.32
2,833.47
0.91
49.48
47.99
36
India Export of Oil Seeds and Olea, Fruits, Grains, Seeds and Fruits
1,034,718.80
1,709.41
0.54
1,356,084.23
2,213.94
0.71
31.06
29.51
37
India Export of Edible Fruit and Nuts, Peel, or Cirtrus fruits
978,579.28
1,623.29
0.52
985,913.05
1,610.71
0.52
0.75
-0.78
38
India Export Of Carpets And Other Textile Floor Coverings.
955,724.85
1,579.09
0.50
1,112,030.92
1,819.67
0.59
16.35
15.24
39
India Export Of Essential Oils And Resinoids, Perfumery, Cosmetic Or Toilet Preparations.
882,846.73
1,459.30
0.46
892,774.05
1,460.66
0.47
1.12
0.09
40
India Export Of Inorganic Chemicals; Organic Or Inorganic Compounds Of Precious Metals, Of Rare-Earth Metals
825,788.55
1,364.11
0.43
874,917.72
1,429.87
0.46
5.95
4.82
41
India Export Of Sugars And Sugar Confectionery.
825,454.25
1,354.89
0.43
657,472.60
1,075.16
0.35
-20.35
-20.65
42
India Export of Edible Vegetables
821,853.73
1,356.07
0.43
721,603.07
1,180.80
0.38
-12.2
-12.92
43
India Export Of Articles Of Stone, Plaster, Cement, Asbestos
800,850.25
1,322.75
0.42
852,549.38
1,395.84
0.45
6.46
5.53
44
India Export Of Raw Hides And Skins And Leather
780,251.79
1,290.02
0.41
814,104.40
1,333.64
0.43
4.34
3.38
45
India Export Of Furniture, Bedding, Mattresses, Mattress Supports, Cushions And Similar Stuffed Furnishing, Lamps And Lighting Fittings
664,404.69
1,095.44
0.35
719,440.53
1,175.83
0.38
8.28
7.34
46
India Export Of Paper And Paperboard
633,063.76
1,046.63
0.33
703,696.54
1,151.35
0.37
11.16
10.01
47
India Export Of Tobacco And Manufactured Tobacco Substitutes.
613,445.89
1,011.35
0.32
586,858.67
958.62
0.31
-4.33
-5.21
48
India Export Of Animal Or Vegetable Fats And Oils And Their Cleavage Products; Pre. Edible Fats; Animal Or Vegetable Waxex.
516,358.14
857.33
0.27
595,502.25
973.29
0.31
15.33
13.53
49
India Export Of Tools Implements, Cutlery, Spoons And Forks, Of Base Metal
514,318.89
847.92
0.27
544,081.95
889.84
0.29
5.79
4.94
50
India Export of Dairy produce, Birds, Eggs Natural Honey
427,410.09
705.07
0.22
231,358.14
379.03
0.12
-45.87
-46.24
 
India's Total Export
183,853,643.76
303,444.87
 
182,220,266.94
298,224.66
 
-0.89
-1.72
Ref :